International Customer Relations Specialist
We're seeking a creative International Customer Relations Specialist who can both take responsibility for our many marketing and communication tasks and at the same time provide our customers with top-class service and help build our great customer relationships.
We're looking for someone who knows all the key elements of the good customer journey, and whose eyes light up with enthusiasm when we in the team share our passion for creating the best solutions with our customers. If that sounds like you, we think you might fit right in here at ASIMUT.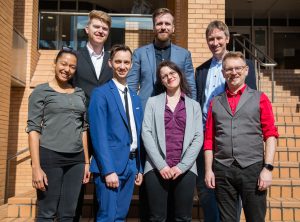 The company
ASIMUT is a comprehensive web application specifically developed for scheduling, room booking and event management at institutions of higher education in the fine arts. Many of your future colleagues have a music academy background and we are all passionate about the performing arts – as we hope you are, too!
More than 60 academies in 19 countries are already using ASIMUT, and we are especially busy now with selling to and implementing for even more.
Our office is located in Aarhus, Denmark.
Role summary
You will help to take our many marketing and communications tasks to the next level, both digitally and in print, in close collaboration with the Head of Sales and Implementations.
You will be the engine to run our website and develop our social media presence.
It will be your responsibility, together with great colleagues, to develop, drive and project manage our annual User Group Meeting, which is held somewhere in the world hosted by one of our clients.
You will support all customer relationship activities through customer onboarding, implementations, deployment and product training, both online and on-site.
You will participate in sales and relationship-building activities such as lead follow-up, canvassing, customer demonstrations and more, and you must be able to naturally thrive with this.
You will become part of our customer/product support, providing our customers with an excellent "red carpet" experience via phone, e-mail and chat, and helping to find great solutions.
You will project manage projects large and small, alone or together with some of your skilled colleagues.
You will ensure good internal communication with ASIMUT's Head of Sales and Implementations, and make suggestions for improvements on the basis of your daily interactions with customers from all over the world.
Skills and requirements
We expect that you have some years of experience in a similar role or functional area.
You are creative, resourceful, possess good graphic skills and have a talent for inspiring others.
You are inquisitive and find it easy to acquire new knowledge.
You are a people person, helpful and good at building firm relationships. You are solution-oriented, obliging, considerate and a skilled team player.
You are also meticulous and systematic, with a drive and a balanced energy that rubs off positively on the people around you.
You have a strong sense of tact and of how to secure timely solutions to customer needs.
You have a very strong command of written and spoken English (C2 Mastery)* and master one or more other languages such as Spanish, French or German at a high level (C1 Advanced – C2 Mastery)*. Our internal communication language is English. Danish is not a requirement.
It is a definite advantage if you have experience in the field of music, performing arts or visual arts, preferably from the sector of higher education.
*CEFR – Common European Framework of References for Language.
What else?
We are a small company and things are moving fast for us, so you will naturally be an important part of the impact that we make together.
Travelling is a part of the job.
If you do not live in Denmark, you must be prepared to move here.
ASIMUT is a diverse company. We have an informal style with an open atmosphere.
The position is full-time, and we would like you to start with us on 1 July 2021, but we are happy to wait for the right person.
You will be part of the Sales and Implementations team of five people. In parallel to this position, we are also looking for an International Customer Relations and Support Specialist.
You are welcome to contact Dennis Jung Møller, Head of Sales and Implementations, at dennis@asimut.com, if you are eager to know more.
The application
If you also think the job sounds exciting, we will look forward to receiving your application and CV. You can apply via the link below.
The final date for receipt of applications is 9 May 2021, at twelve noon Danish time.
The recruitment process consists of the following elements: first interview 18-19 May, second interview 25 May. Personal profiles will be drawn up for candidates who proceed to the second interview, in advance of the meeting. An external consultant will be involved in the recruitment process.
If you have any questions, please contact: