Software Developer
with front-end / full-stack focus
We are looking for a developer with front-end/full-stack focus for our team in Aarhus.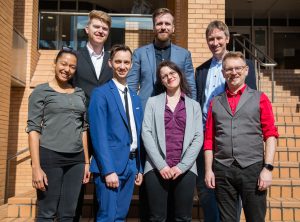 The role
We are looking for a tech-savvy and service-minded developer to join ASIMUT's development team.
You will be working developing ASIMUT, a web-application for planning used by the world's best schools of music, drama, and art. You will be adding improvements to the existing system and new functionality in the form of independent modules.
ASIMUT consider it important that every member of their team gets to know their customers, so you will participate in implementation workshops as well as their annual user group meeting. This means you will travel to customer's locations (generally Europe, USA and the Asia-Pacific region) at least a couple of times each year.
You are also expected to take part in second level support regarding technical issues.
The tech
At ASIMUT, they know that being a great programmer transcends knowledge of any specific language or framework, so they value a sharp mind beyond prior experience with their tech-stack, when we hire.
Technologies:
Angular 2.0+
jQuery / JavaScript / HTML / CSS
PHP and Go
MySQL
Developer and project management tools:
JetBrains IDEs: PhpStorm and GoLand
Gitlab for project management and CI
Your workstation:
Windows, macOS or Linux – we value diversity
You
You are a Software Engineer with a couple of years of experience with some of the above-mentioned technologies. You have an outgoing, confident personality and strong people and communication skills.
You will work as a highly independent member of a tight-knit team, consisting of 9 people from multiple countries.
At ASIMUT, they will value your expertise and creativity and from day one, you will be a part of influencing product decisions while learning and developing as a programmer.
It is a requirement that you are comfortable communicating in English as this is their corporate language., Danish language skills are not important, but if you speak any additional languages, it would be advantageous.
Since ASIMUT's clients are cultural institutions it could benefit you if you have an interest in music, drama or arts – or other cultural activities.
Although they have some flexibility with regards to working remotely, ASIMUT value being together as a team, so you will spend some of your working hours in their office in downtown Aarhus, close to the central train station.
About ASIMUT software
ASIMUT is the only room booking, scheduling and event management system made specifically for schools and venues of performing arts. No other system integrates academic timetabling and performance planning.
Their primary mission is to provide and develop the ASIMUT system for institutions of music and performing arts. At ASIMUT they are passionate about schools of performing arts because they are the foundries where the important artistic and cultural movements of the next century are being cast right now. More than 60 academies in 19 countries are already using ASIMUT, and they are very busy right now implementing the system for even more.
Interested?
The recruitment process is handled by mpeople on behalf of ASIMUT software.
If you have any questions about the position or ASIMUT software, please get in touch with Tommy Both Juul on tbj@mpeople.dk or +45 25 64 28 28.
We look forward to hearing from you.